Instead of posters for English National Opera's new staging of Aida depicting a steep shaft of light over a lone soprano, they could easily have screamed
Akhnaten II: Return of the Tomb Raider
.
Phelim McDermott
envisages it as a sister production to his team's mesmeric award-winning production of Philip Glass'
Akhnaten
of two seasons ago. But would the hypnotic juggling and glacial choreography work for Giuseppe Verdi's Nile epic?
McDermott's Aida, a co-production with Houston Grand Opera and the Grand Théâtre de Genève, is leagues away from the Zandra Rhodes bling which framed ENO's previous effort. Tom Pye's sets have a monolithic feel, dominated by a huge prism standing proud; drawn from part of a hieroglyph, its triangular form finds echoes in the way the drop curtain opens and closes. Bruno Poet's lighting shrouds Memphis in mists, lending a dark, atmospheric feel to the early acts where a strong sense of ceremony and ritual is created, albeit including static choral direction. Much of the movement and spectacle comes via Basil Twist's silk effects, from a billowing purple column to red banners splayed around Eleanor Dennis' lustrous priestess like rays of the sun in the Temple of Vulcan. Act 4's tomb is beautifully cut away, even if a lot of sunlight still manages to seep through to illuminate Radamès and Aida's dying breaths.
Kevin Pollard's extrovert costume designs clearly echo those in
Akhnaten
, modern military chic rubbing shoulders with timeless voluminous robes;
Michelle DeYoung
's viperous Amneris was cocooned in white like a chrysalis at one stage. Headdresses adorned with horns and antlers are worn with evening dress for Act 2, though it's the leopard-skin fez which should clearly be adopted as this year's must-have fashion accessory. The female-led acrobatic team Mimbre entertains Amneris with a silken rhythmic gymnastic display and balance atop each other to form a guard of honour for Radamès' return. McDermott mutes the usual pomp of the Triumphal Scene, coffins draped with flags adding poignancy as the bodies of soldiers are returned to their families.
Leading a strong cast is American soprano
Latonia Moore
, last heard in London six years ago – also as Aida – at Covent Garden. She looked every inch the African princess, but adorned with blue hair and splashes of tribal face paint. With golden top notes and plush, velvety colouring to her lower register, Moore shaped a commanding "Ritorna vincitor!". A snatched top C barely detracted from a tender "O patria mia" in Act 3. Her Radamès was ENO stalwart
Gwyn Hughes Jones
in vibrant voice. "Celeste Aida" was sung ardently with a lovely diminuendo at the end, while his tone in the tomb was beautifully sweet.
Towering over Moore's Aida, DeYoung – making her ENO debut – took time to settle on opening night, sounding cloudy early on, with some weird English vowels. However, she hit form by the Judgement Scene, her mezzo opening up impressively, delivering a powerful curse, even if it didn't quite rattle the Coliseum's foundations. There was a solid UK debut for South African bass-baritone Musa Ngqungwana, who displayed firm upper notes in the Nile Scene. Robert Winslade Anderson's Ramfis was a little too soft-grained for the implacable priest, but Matthew Best, looking disturbingly like Bill Nighy, white coat draped casually over the shoulders of his white suit, sang strongly as Egypt's king.
Keri-Lynn Wilson conducted a lively account of Verdi's score; a few slips between orchestra and ENO's lusty chorus will doubtless be ironed out. There were excellent on-stage trumpets in the Triumphal March, matched for pageantry and grandeur from the pit, while Claire Wickes' perfumed flute solo evocatively set up the Nile Scene. Verdi's music is, of course, often a good deal more animated than Glass' minimalist noodling. Where McDermott slowed the action in
Akhnaten
to match the music's trance-like torpor, here he sometimes needed to invigorate his singers more, to find a more dramatic pulse with less reliance on "park and bark". Nevertheless, this credible new production is a considerable success with another fine cast to take over the run at the end of October.
Aida, English National Opera review - heroine almost saves a dismal day
Phelim McDermott's static and shallow production hosts one glorious performance
Friday, 29 September 2017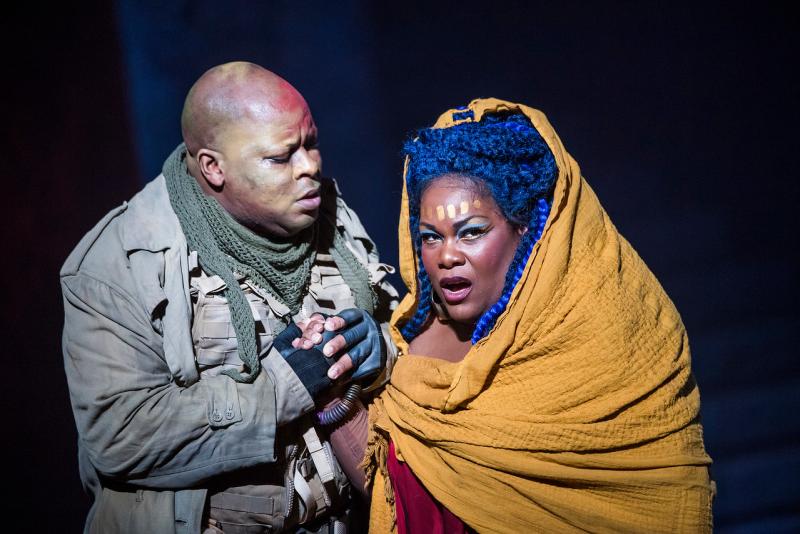 Musa Ngqungwana as Amonasro and Latonia Moore as his daughter Aida
If the best is the enemy of the good, then the excellent is also the enemy of the "meh". And if you can stomach
Verdi'
s
Aida
, go and see
English National Opera
's new production for its central performance by Latonia Moore. In what's become her signature role – the American soprano has sung Aida a hundred times previously – her searingly expressive, silvery tone and complete inhabiting of the character brought the doomed Ethiopian princess in Egyptian enslavement leaping to life. Unfortunately she was the pearl in an oyster that otherwise proved rather resistant to winkling – showing up how wide of the mark much of this production by the usually inspiring Phelim McDermott and his theatre company Improbable has fallen.
Aida and Princess Amneris both love the Egyptian military hero Radames. He loves Aida, so the jealous Amneris decides to destroy them both. Aida's father, King Amonasro of Ethiopa, captured and hiding his identity, turns her into a honey-trap to get military secrets from Radames, who is tried for treason and ultimately buried alive; Aida hides in his tomb to die with him. The strong simplicity of plot that so endears this opera to its public is also problematic, because if interpretations lack subtlety, in part it's the fault of Verdi and his librettist Antonio Ghislanzoni: the characters are scarcely more rounded than a pantomime's. It is down to director and cast to give them some convincing depth.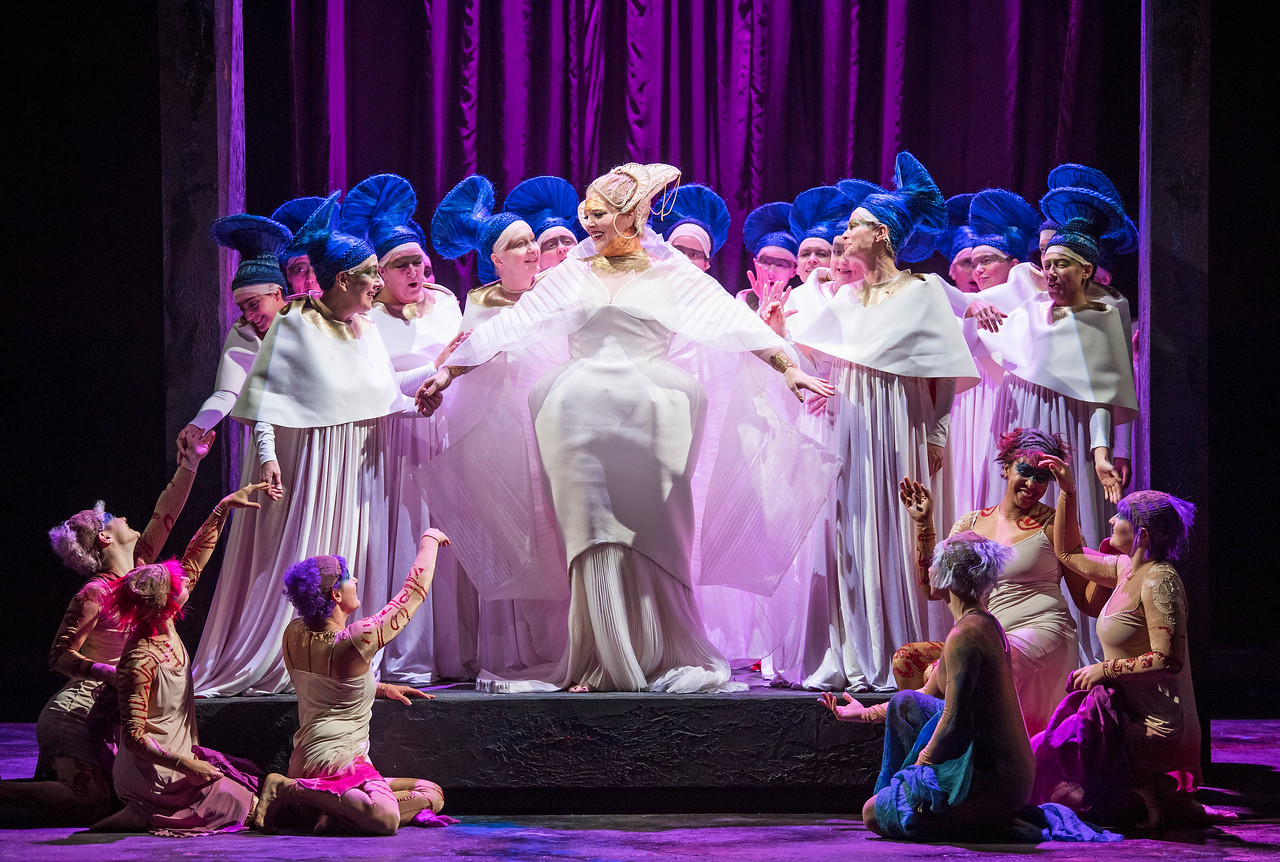 Still, there's spectacle, and everyone loves spectacle, except they might love this one a little bit less. It has its moments. The large, static choral scenes match the monolithic shapes of Tom Pye's sets to some degree, there are some pretty colours, with rippling silk effects created by Basil Twist; and the beautiful, slanted, varied lighting by Bruno Poet is the subtlest thing on stage. But too often the static direction becomes almost ossified. Kevin Pollard's timeless costumes don't always help. Elaborate hieroglyph-inspired head-pieces, exotic venerations of Isis (ancient goddess, not so-called Islamic State), and Radames's rather 19
th
century military uniform sit awkwardly with otherwise updated imagery and poor old Amneris is trussed into a white contraption that might have looked happier in 1970s science fiction (Michelle DeYoung's Amneris
pictured above
with attendants).
No elephants. Instead, the triumphal march accompanies the return of some coffins. Arguably, of course, it is a grotesque moment: Aida's people have been defeated, her father has been taken prisoner, and her enslaver is stealing her lover. So it's valid – but grim nonetheless. Radames enters at the height of it to flurries of red bits of paper (plus audible pops as they're released). Redemption could be found in the team of fabulous on-stage trumpeters.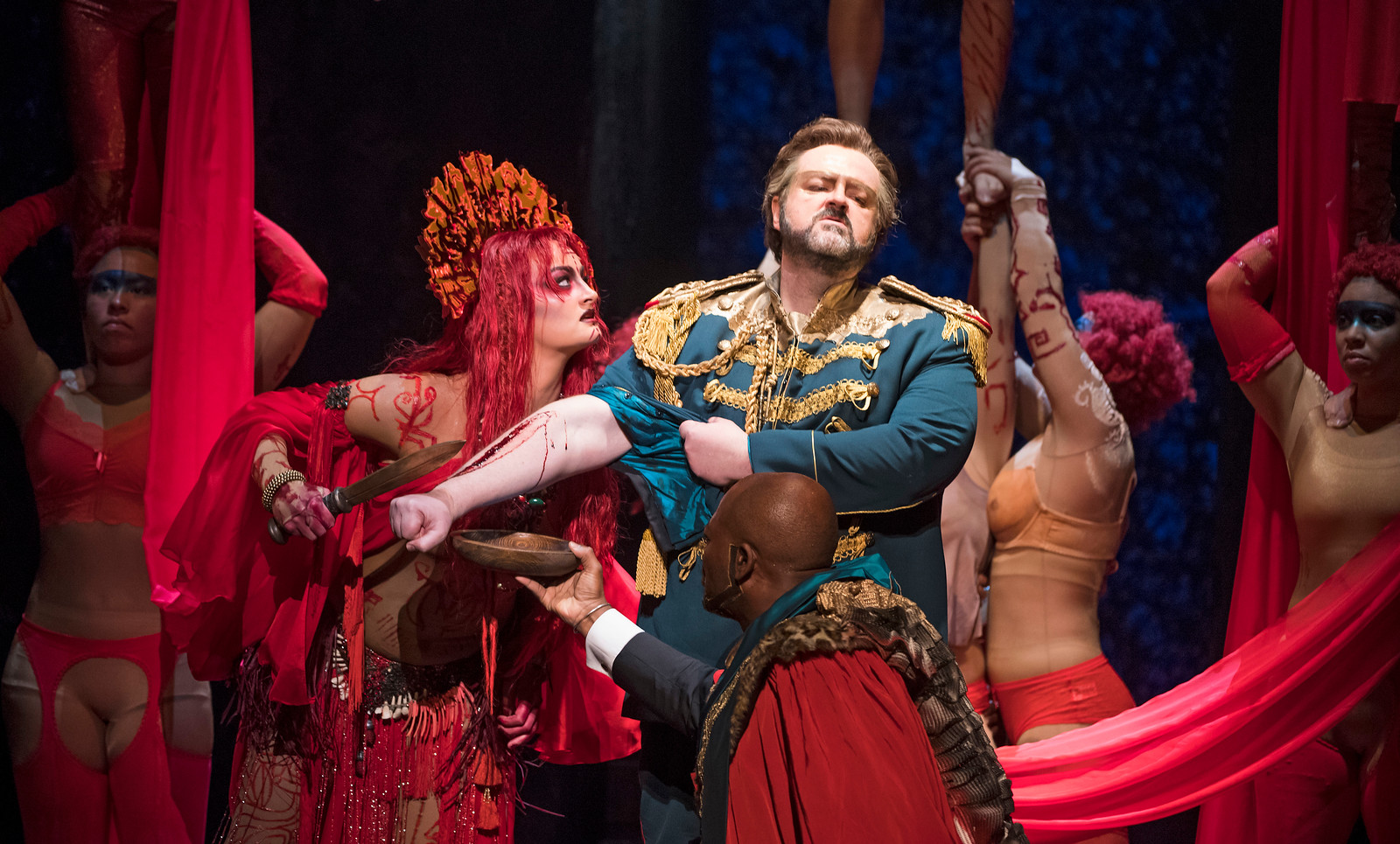 None of the visuals would matter if the characters were fully explored and their interactions were vivid, but few were the moments when that happened; and instead of addressing one another, they mostly had to stand metres apart and bark forwards. Some crucial scenes barely featured eye contact.
Michelle DeYoung's Amneris never lost her regal stance or full tone, but so much more could be made of her inner conflict, terrible jealousy and, above all, the sonic colours of this huge role. Tenor Gwyn Hughes Jones (
pictured above
) carried the role of Radames well and was strong vocally, with plenty of ping in the high notes, yet even he could not quite transcend the cardboard cut-out direction. Amonasro was the South African bass-baritone Musa Ngqungwana, making his UK debut, with excellent, warm tone, but perhaps without quite the requisite power of presence. The Egyptian King, Matthew Best, again sang creditably, but with scant personality. Eleanor Dennis, an ENO Harewood Artist, was notable as a Priestess with seductively beautiful tone. Despite good individual components, the whole failed to ignite; the final scene, with Aida and Radames united in the tomb and the regretful Amneris above them, nevertheless moved onto another level, taking Verdi on his own terms at last.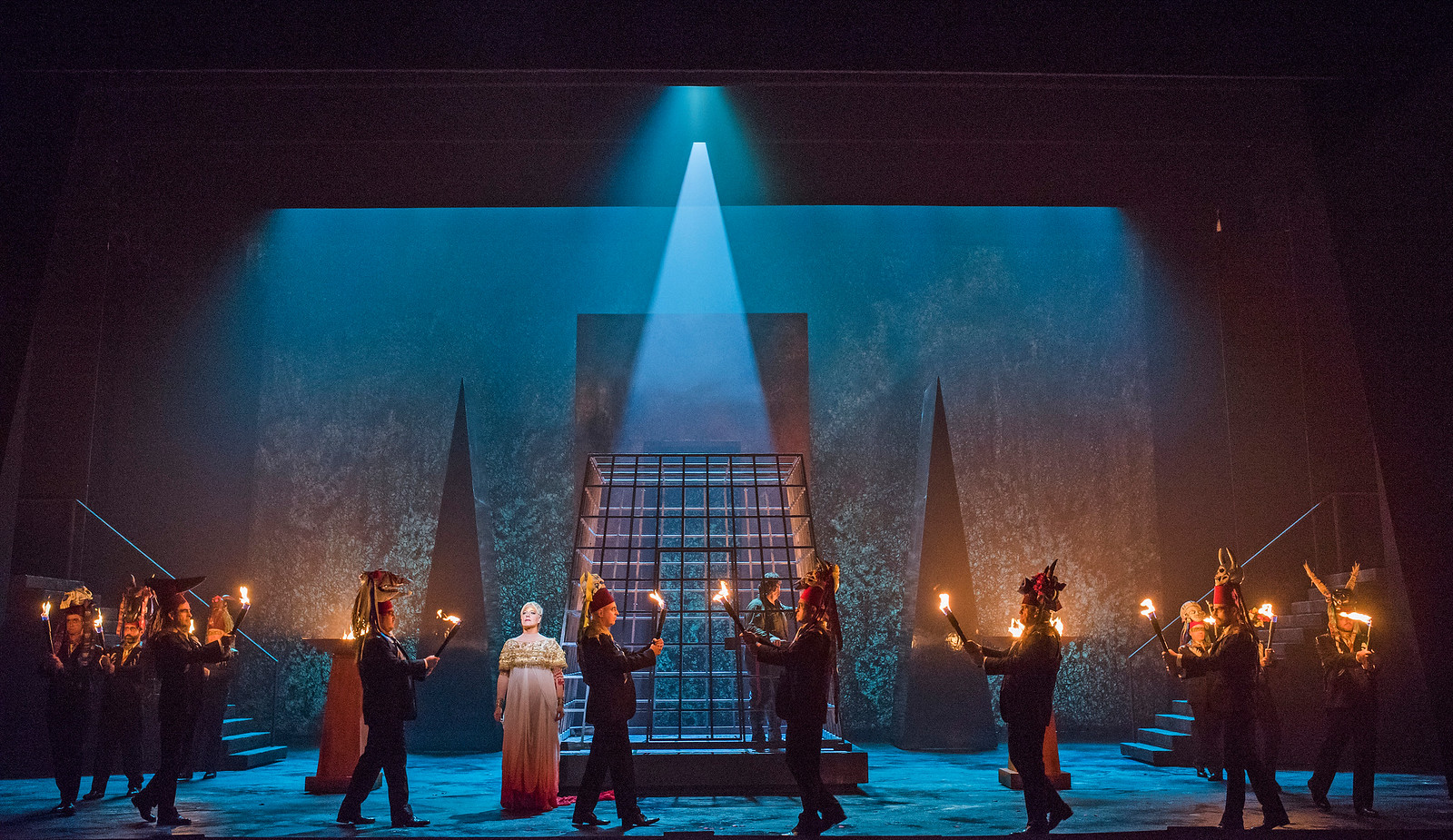 The chorus mostly stood and delivered, which they did extremely well, with the hushed moments especially fine. There was strong playing from the orchestra under the baton of Keri-Lyn Wilson, who took often brisk tempi and provided solid support to her soloists' voices, mainly without drowning them in orchestral splendour and cavernous Coliseum space.
There is one elephant in the theatre: it's Verdi in English. Or Verdi in this English. Some composers translate better than others, and Verdi is one of the thorniest of all. Even so, this version is so clunky that it not only disrupts occasional rhythms but also distracts from its purpose, which presumably is to make the drama more immediate. Aida shouldn't leave you laughing – but when rhyming couplets match "Isis" with "[in]side us", and "shelter" with "Delta", splashed loud and clear over the surtitles, you can't help thinking that ENO's opera-in-English mandate is past its sell-by date.
*************************************
English National Opera's new production of Aida is the work of Phelim McDermott, whose previous stagings for the company include Philip Glass's operas
Satyagraha
and
Akhnaten
, the latter, like Aida, set in ancient Egypt. McDermott's intention is to preserve the essential air of mystery or otherness that surrounds Verdi's tragedy while examining its seriousness of purpose and darker implications: the nature of theocracy; the relationship between desire and obsession; and the inevitability of betrayal when war forces its casualties to choose between lovers and family. He does so, however, in ways that don't always ideally cohere.
His Egypt is a decadent place that half hides its violence behind a veneer of civilised glamour. The columns and monoliths of Tom Pye's set derive from hieroglyphs from the Egyptian Book of the Dead, but Kevin Pollard's costumes range backwards and forwards between antiquity and the present day, allowing McDermott to draw continuous parallels between the ancient world and our own. The priests wear greatcoats and totemic animal headdresses. Gwyn Hughes Jones's Radamès, looking like a Napoleonic general, is subjected to a primitive initiation ritual in the temple of Phta, before leading his troops off to a modern-day conflict. The triumph scene is a solemn procession of flag-draped coffins, observed by a smart-looking crowd in 1930s evening wear. All this leads to an occasionally bewildering first half, and it is not until after the interval that the production begins to settle. The third act has remarkable tautness and intensity, though McDermott weakens the tension of the judgment scene by having Hughes Jones tried in full view of Michelle DeYoung's Amneris rather than offstage.
There are some musical unevennesses as well, though the evening is blessed by a remarkable central performance from the American soprano Latonia Moore in the title role. This is a remarkable voice, wonderful in its amplitude at full throttle, yet also capable of sustaining beautiful, rapt pianissimos. She's a superb actor, too, registering every shift of Aida's torment as the conflicting demands of her father and lover, implacable enemies in war, tear her psychologically in two. This is one of the finest performances of the role to be heard in London for many years.
Hughes Jones makes a strong Radamès, though it took a few minutes on opening night for his voice to settle. There was, however, some finely shaded singing in his duets with Moore, and a real edge of defiance in his confrontation with DeYoung. Her once beautiful mezzo sadly sounded frayed on opening night, and her singing undercharacterised, lacking the requisite menace and ire, though dramatically she wasn't helped by a series of unflattering costumes that restricted her movements.
Musa Ngqungwana's sonorous-sounding Amonasro might have been a bit more threatening. Matthew Best's King, presidential in McDermott's concept, exuded hauteur. Robert Winslade Anderson was the sinister Ramfis.
Canadian conductor Keri-Lynn Wilson propelled the score forward with considerable passion. There were a couple of awkward moments of stage-pit coordination on opening night, which should sort themselves during the run.